Mukisa Jackson Scott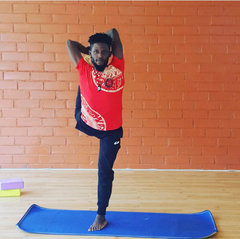 I am a certified Baptiste Power Yoga teacher from Kampala, Uganda.
I started teaching yoga in 2015 after attaining my teacher training certification from Africa Yoga Project in Nairobi Kenya.
I knew I wanted to be a yoga teacher the day I took my very first yoga class, I felt great transformation with in my body, from the vitality all through the asanas to the calmness in savasana, it was a process of total rejuvenation and I immediately knew that yoga was something I needed to do as often as possible.
A day after my first yoga class I applied for the Africa Yoga Project teacher training and that was my turning point, since then I have been teaching yoga in communities, orphanages,and wellness centres empowering, insipiring and creating positive transformation.
I am a Leader who is passionate about making a difference and creating the change that I desire to see.
I offer Private classes, group classes, and corporate yoga classes.
Besides yoga I am also a professional dancer and choreographer with an experience of over 7 years in performing arts.