NICOLE AKOTH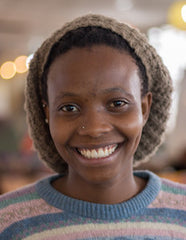 AYP 200hr teacher training, Ashtanga Teacher Training, Baptiste Level Two with Baron Baptiste, Next Generation Yoga training for Kids' Yoga.
I was born and raised in Nairobi. In 2012, I began doing acrobatics with friends and found yoga through this community. There was a group of people from the Africa Yoga Project who lead us through a practice. I loved the feeling afterwards and came back for their next class. Through the practice of yoga, I discovered that I am not supposed to hide who I am. I became more courageous, physically fit, and open to new possibilities. All of this inspired me to apply for the AYP 200hr teacher training. First I took the Ashtanga Teacher Training in 2012, then in April 2013 I completed the 200hr training. That July, I completed Level Two with Baron Baptiste in Malindi, Kenya. This left me with a feeling of empowerment and readiness to give out what I learned from Baron and the training to the world. In 2014, I completed the Next Generation Yoga training for Kids' Yoga.
Currently, I teach Ashtanga classes at the Shine Center in Nairobi. I also teach weekly private classes and an outreach class to the kids in my home community. For my students, I work to inspire focus, stability, and being up to something greater than one's self. Within my life, I would like to spread the power of yoga to as many people as I can; changing people's pre-conceptions and igniting the spark I found within this transformative practice.