Kennedy Omondi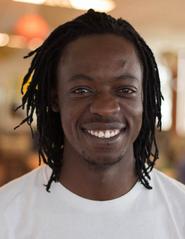 Shine Center Studio Manager
Kennedy Omondi began his exploration of yoga in 2009. After attending a series of yoga classes, he developed an inner interest and passion for the practice and began to seek opportunities to grow.
In 2012, he completed his first yoga teacher training with Sharon Moon, under the Jois Foundation. In April 2013, he took a 200 hours Yoga Alliance Training. In June the same year, he advanced his teaching by attending the Level 2 teacher training with Baron Baptiste.
Kennedy has an ongoing interest in yoga practice and teaching and continues to attend different workshops and trainings to improve his understanding of different types of yoga including: Kundalini yoga, Trauma Sensitive, Yoga for kids (led by the Next Generation Yoga), yin yoga, and chair yoga among others. In June 2017, he took up an advanced yoga training in Advanced Instructors Course at Svyasa University in India.
Kennedy brings a calm and grounded demeanor to his classes as he guides students through the different asanas while emphasizing on focus (drishti), breathing exercise, and alignment.
When not teaching yoga, Kennedy loves to take photographs - he specializes in arts events and macro photography. Occasionally, he will take photos of his friends and family in their everyday life.