How yoga is stretching the bodies and minds of Kenyans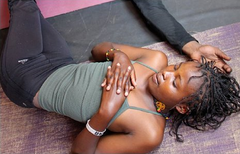 9 June 2010
In a funky red building in the Kenyan capital, Nairobi, something is happening that may, at first glance, seem rather unusual to passers-by.
Read original article here
About 70 young men and women are lying on their backs, their knees bent and feet firmly on the ground. With elbows bent backwards and palms facing in the direction of their feet, they push their bodies up to form an arch.
As they strike this so-called "wheel" pose, the group lets out a collective, almost trance-like moan - "aaaaaaah".
One could be forgiven for thinking that this is some sort of weird, fundamentalist religious practice, but it is in fact yoga - Vinyasa yoga to be precise.
Though not as well-known as Ashtanga yoga, for example, Vinyasa is one of the most commonly practised styles in the West.
Sometimes referred to as "flow" yoga, the classes usually focus on breathing and movement which is almost dance-like.
Passion and excitement
Here in Kenya, the classes are being run by an organisation known as the Africa Yoga Project (AYP). They take place in the Sarakasi Dome, a building that could pass for a 1970s cinema or a toppled over beehive.
| | |
| --- | --- |
| | Accept who you are, take your mask off. Everybody is wearing a mask |
The floor of the building is covered with mats and the red graffiti-filled walls evoke the passion and excitement in the room.
The three-hour classes where yogis - those who practice yoga - focus, stretch, twist, sigh and sweat are led by Moses Mbajah, a laid-back 27-year-old with a warm smile and a passion for yoga.
"Acceptance," he purrs.
"Accept who you are, take your mask off. Everybody is wearing a mask."
In the background, the groovy sounds of Madonna and Bob Marley can be heard.
Transformative influence
AYP, a non-profit organisation, was established in Nairobi in 2007 by Paige Elenson, an American who studied with the renowned yoga teacher, and creator of Vinyasa yoga, Baron Baptiste.
The objective of the organisation is to use the transformative influence of yoga to empower communities and change lives, explains Mr Mbajah.
Yogis demonstrate the 'upward-facing dog' pose
Those behind Vinyasa yoga say it has many mental and physical health benefits which are triggered by the internal heat that is generated by adopting different postures.
Among the claimed benefits are: stimulation and detoxification of the blood, improved metabolism and reduced susceptibility to infection.
Today most of AYP's classes take place in Nairobi where there are 42 teachers showing the ropes to yogis in close to 50 places, with on average 2,000 students per week, says Ms Elenson, and over 100 classes per week.
There is just one other teacher outside of Nairobi near the coastal town of Mombasa.
Many of the teachers were encouraged to join by Ms Elenson, as community outreach is an important part of AYP. The yoga teachers provide workshops in community halls, prisons, schools and other organizations, often in some of the biggest slum areas, including Kawangware, Korogosho, Kibera, Mathare and Kangemi.
The sessions are free and teachers are paid by the organisation.
Yoga desire
At this Saturday class are AYP teachers, assistants and individuals who are keen to learn more about the practice. Many already have a background in acrobatics and dancing.
Previously an acrobat with eight years experience, Mr Mbajah, who hails from Kakamega in western Kenya, joined AYP in 2007.
| | |
| --- | --- |
| | Kenyans have lots of tribal issues and this is a boundary. I am always teaching about not having boundaries |
It was during the dark days of Kenya's post-election violence of 2008 that his desire to teach yoga surfaced. For eight months that year he visited camps for displaced people in Ngara, in eastern Nairobi, and taught acrobatics, yoga and dance.
For Mr Mbajah, the gift of yoga is multi-faceted. Not only does it mean being well and healthy, it is also about being able to "share, to give and to do more good".
During the class the yogis are called to talk about their experiences in an open discussion.
"We are here to learn from each other. Anyone want to share?" offers Mr Mbajah, adding quickly that "if you share you see the light of others. What happens if all of us shine?".
"There is a lot of light," somebody responds.
Another participant suggests doing the best you can: "Even at home, give 100% and you'll achieve something."
Open to learning
For Mr Mbajah the importance of being a community without boundaries and of sharing experiences in Africa is central. "Kenyans have lots of tribal issues and this is a boundary. I am always teaching about not having boundaries," he says.
When yogis are practising they must pay attention and be open to learning from each other.
Indeed, everybody has a different story to tell about how their lives have been transformed by yoga.
Moses Mbajah tends to his class
Adams Chieno, a 34-year-old professional dancer, views yoga as both a physical and spiritual experience. It not only strengthens him, but allows him to open up and mix with new people.
On the other hand Esther Wanjiru, a 38-year-old mother of five, finds that it helps her relax and cope with stress.
Her daughter Catherine Njeri is a yoga teacher and convinced Mrs Wanjiru to take up the practice, along with her sister Sophia Njoki, 22.
"We are wasting time, we don't have anything to do," is what Ms Njoki says she hears often in her community who sees them taking up yoga as a sign of their idleness.
Yoga has had an even more profound impact on the life of 21-year-old, Walter Mugwe. Just three years ago he was drinking and smoking marijuana, which sometimes led to violence. But yoga, he says, has changed his life and he is now an instructor.
Religion for the idle
But while it is all peace and harmony at the AYP, not everybody sees the point. In fact some people in the community view the practice as a religion for the idle.
Mugwe, for one, had little support from his Christian family who were worried that he had joined a new religion. But with much perseverance, he eventually convinced them that his life has changed as a result.
"I had to borrow lots of DVDs to show them. Even in my community in the township, they think it's a religion. I had to call my fellow teachers to mentor my class."
But while yoga can transform lives and inspire people, this can only be achieved with commitment; to be effective it must be practised daily.
Back in the studio the yogis are kneeling down, their upper bodies resting on their knees, hands outstretched ahead and knees slightly open. As the class draws to an end, there is the sound of deep breathing.
The yogis are now in the "child's" pose, a relaxing stretch to the lower back, which can be used at any point during the intense three-hour session.
"Be in the present, breathe life," says Mr Mbajah, telling the group to breathe away temptation and bad energy.
For the yogis, breath, after all, is the most powerful weapon. Inhaling and exhaling correctly is as important as striking the right pose.
"Namaste," he says - it is now the end of the class and he has used a Sanskrit word which, simply put, means "I bow to you".
"Let the light in me shine and spark light in you," he says.
The yogis break into a cheer and with a sigh of joy another session of yoga is over.