AMESO TABITHA (UGANDA)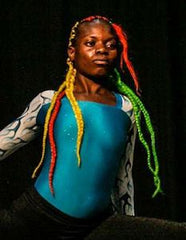 My name is Ameso Tabitha also known as BiiboTag from Uganda Kampala. Am a certified yoga instructor from the Africa Yoga Project in Kenya Nairobi in the year 2015.
Besides being a yoga instructor am an acrobat, contortionist, dancer, co founder of Acro yoga Kampala and for a very long time I was looking forward to learning more and understanding yoga until I got an opportunity to know about the scholarship that happens annually in Kenya Nairobi and applied.
Yoga is my day to day routine. At the moment I run yoga and acroyoga classes in different communities, schools and also do yoga for the special needs in 3 different districts in my country thanks to Africa yoga project and also run a weekly Sunday community class at the National theater (UNCC).
Having a change with my welfare, practice, gymnastic, being a contortionist and social life thanks to this practice of Baptist power yoga that has positively changed my life around and still in work  and I also decided to do the same in different communities in Uganda. I also run private classes for individuals, group clases, schools, organizations among other institutes.
YOGA MY LIFE YOGA MY WORK. AM REACHING FOR THE STARS.
                  +256754895948 // : biibotag5@gmail.com // FACEBOOK: BIIBOTAG YOGINI