FREDRICK Ong'or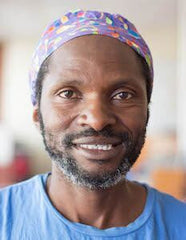 Baptiste Certified, Art of Assisting, AcroYoga, Next Generation Yoga, Ashtanga Teacher Training, Kundalini Teacher Training.
I was born in Siaya, Kenya -- where Barack Obama's father was born and raised as well! When I was still small, my father moved our family to Kariobangi, Nairobi. It was here I attended primary and high school. As a kid, I used to play football and would take many adventures.
After finishing high school, I practiced martial arts all the time. However, I injured my knee and was unable to partake in martial arts for some time. It was within that period I began yoga, through the Africa Yoga Project's Kariobangi outreach class, taught by Catherine Njeri and Patrick Kiragu. Through this practice, my knee was healed and I was inspired by Catherine and Patrick to further my commitments to yoga. I continued and deepened my yoga practice and decided to apply for the Africa Yoga Project (AYP) 200hr Teacher Training. I was chosen for the scholarship and began the training in April of 2012 and gained my AYP certification. Alongside that certification, I have completed Level 2 Baptiste Teacher Training, in Malindi, lead by Baron Baptiste himself, Art of Assisting through AYP in 2012 and 2015, AYFit AcroYoga, Next Generation Yoga, Ashtanga Teacher Training in 2011, and the Kundalini Teacher Training in 2015.
Currently I teach Baptiste power yoga and Kundalini yoga in both private classes and outreaches in Nairobi, throughout the week. I used to teach cancer patients at the Faraja Cancer Center in Nairobi which humbled and challenged me in many ways--allowing for me to grow and adapt for the needs of others.
I look forward to hearing from you, Namaste!