JOHN GUCHUA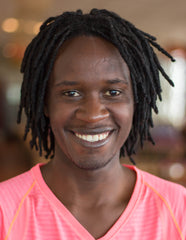 Certified Baptiste Yoga Instructor, 200hr AYP Yoga Instructor, Alliance and Kundalini Yoga Teacher, and AYFit Instructor
I came into the world of yoga in 2009 after following a friend to class. After more than a decade of contemporary dance training, I was looking for a new transition into a different type of practice and adventure. I was instantly inspired by the positively therapeutic vibrations brought through the practice of yoga as well as the connection it generated between both body and mind.
I am a registered yoga instructor and have completed my 200hr teacher training through the Africa Yoga Project (within the Baptiste methodology), the Certified Yoga Alliance and Kundalini Yoga Teacher within the Kundalini Research Institute (through the teachings of Yogi Bhajan), am certified as an AYFIT (Acro-yoga) teacher, additionally I have studied the Art of Alignment and Assisting with Africa Yoga Project's Founder, Paige Elenson, and have been recently certified as a Baptiste yoga teacher.
I strive to make my classes enjoyable through thoughtful arrangement melding artistic and therapeutic methods, tempos and pacing guided by the flows of Baptiste power vinyasa yoga and kundalini yoga. Through such methods, I emphasize proper anatomical alignment, focused breath, flexibility of mind and body, and an awareness of yogic philosophy. Within classes, I hope to intentionally provide an open space for my students to quiet the mind and strengthen the body, to cultivate a transformative experience. My classes are ideal for everyone, from seasoned practitioners to those just starting out. Ultimately, I encourage and empower my students to tune in and connect with themselves, to create an increased physical and personal awareness.
I would like to accredit all my teachers, -Paige Elenson, Ravinder Kaur, Gobinda Singh, Sat darshan Singh, and mentor Lisa Wade. I strive to continue my own practice through a self-practice, attending workshops, and yoga conferences.  
Off the mat, you can find me dancing and practicing yoga as well as delving into the world of visual art. I strongly believe in the healing benefits of self-expression, transformation, strength, and flexibility found within both yoga and art. As well as teaching yoga, I am an art therapist, art consultant, and the founder of Creative Yoga Millennium and Yogartec company.