Leah Etende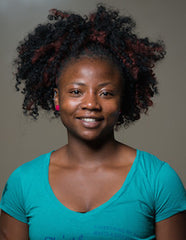 I first met Paige Elenson in 2006 while I was doing Acrobatics. There were seven girls in our acrobatics groups and she befriended us and collaborated with us on how to introduce yoga to Africa. We began with Acroyoga and practiced at Sarakasi. In 2009, I had my first breakthrough when I took my first teacher training with Baron Baptiste. I learned the importance of sharing and of practicing yoga.
I grew up in a family of five siblings and we experienced much hardship. I had a child at the early age of 16, bringing love but also much struggle in my life. It was through meeting Paige and going through teacher trainings that I learned to live freely and fully. Becoming a teacher and working for AYP, I was granted the opportunity to continue my career as an acrobat through which I would travel outside of Kenya and throughout parts of Europe and Asia. Luckily, AYP would receive me upon my returns still with my position and still providing me with work. This allowed me to provide for myself and my baby, and also brought opportunity for change in my life.
I have my 200hr teacher training, the Art of Assisting certification, the Prenatal yoga certification, and have completed Baptiste Level II in 2013 in Malindi. Currently within AYP, I am the Retail Manager for the Shine Center. Through this position I am charge of all sales within AYP and ensure all apparel and supplies are created, prepared, and distributed for various programs including Sevas Safaris, Ambassadors, and Teacher Trainings. I also teach three private classes throughout Nairobi weekly but I am hoping to expand my clientele.
My dream is to see AYP bring the biggest change to the communities in Kenya, particularly within the upcoming election year. Looking back on the peace and solace yoga brought after the post-election violence in 2009, I want to generate the same hope and peace to keep both my family safe and the community safe and well.