MARGARET NJERI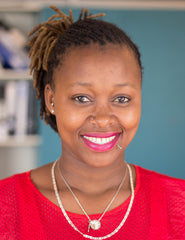 I first started yoga in 2009, when I met Paige Elenson in the acrobatics center, Sarakasi. I've participated in two Level I trainings (in Kenya and Mexico), two Level II trainings (in Mexico and Malindi), and a Level III in New York. I have also achieved my 200hr AYP teacher training in 2013 and the Art of Assisting allowing me to obtain my Baptiste Yoga Instructor Certification. Within the Africa Yoga Project, I have participated on the 2015 HHH (Handstands, Hugs, and Happiness) across the United States, was the first woman from AYP to tour the U.S., and was also featured in the first documentary about AYP.
I can really see a change in my students, since starting yoga they have really become strong. When they started they were weak and now they are healthy, now they think about what is next in their life, they think about the future. Yoga has helped the mothers become better mothers to their children and the small kids are having fun. The slums are a dirty environment, but by bringing in yoga we have brought in health, peace, happiness, and freedom.
I work with women in prison who have killed people and I want to help them and teach them to let go of the stress of their situation. Relaxing your mind is possible anywhere, they can be who they want to be. For me, yoga has really helped me-you see me right now, I am shining and I am not shy anymore. Be yourself, do not be afraid or anything. In life do not give up-if you give up, then everything you worked for will disappear.
In one year I want my own studio and in that studio, it's one of my students running it. I will be in another country spreading the word of what yoga can accomplish!
Currently, I am an AYP Receptionist for the Shine Center, teach a bi-weekly Pop-Up class at Prestige Plaza (Mondays and Wednesdays 6PM), private classes, and a weekly class at the Shine Center--Mondays at 9AM.
Please contact me for private classes, I am very flexible and love to ignite the passion of yoga within others!