Peter Kariuki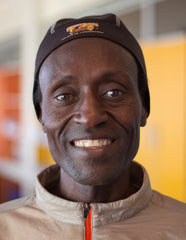 AYP 200hr Teacher Training, AYFit, Ashtanga Yoga, Acrobatics, Martial Arts, Karate, Aikido
I have been practicing yoga and incorporating its philosophy into my life since 2002. While I had been primarily partaking in and teaching acrobatics I was introduced to the Africa Yoga Project (AYP) in 2012 by two of my students at the time. To this day, I continue to practice a blend of Baptiste Power Yoga, taught to me by the founder of AYP Paige Elenson.
I hold certificates in AcroYoga, Ashtanga Yoga, Acrobatics, Traditional Chinese Internal and External Martial Arts for self defense and health, Karate, and Aikido. Within each class, I aim to teach from the heart to create an uplifting and safe environment for my students. Through this space, they can explore and expand within their own body and consciousness.
Join me in Thika at the Nugabest Massage Studio, where I teach yoga every Monday, Tuesday, and Friday. Classes begin at 6:00AM.