Watson Wamai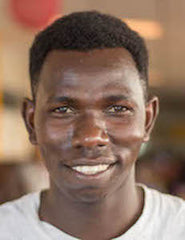 Certified AYfit Acro Instructor, Certified Special Needs Yoga taught by Sonia Sumar, Certified in Art of Assisting taught by Paige Elenson. Completed Basic Anatomy Course with AYP Academy.
The first yoga class I ever attended, I was reluctantly brought to by a friend who claimed I wouldn't regret the experience. With a history of professional dance, I was comfortable within my own skin but had never thought of trying yoga. However, after this primary introduction, I felt sufficiently challenged and ready to deepen and continue my practice. Through this continuation, I began to discover an inner awareness and experience the connection of community. I was inspired to share the growth I experienced from the practice of yoga with others.
Since my first yoga class, I haven't been able to get enough! I began teacher trainings with Sharon Moon's Ashtanga Yoga courses. I supplemented this program with classes at the Africa Yoga Project Shine Center. Ultimately, these led to my participation in a Baptiste Yoga Teacher Training, through which I am now certified as an instructor.
Currently, I teach private classes and ones in various yoga studios, free outreach classes in my community,  as well as classes for children with special needs. I spread the joy of practicing to these communities and am always looking to bring yoga to others as well.
I strive to share the practice of yoga so that I can help others be healthy, fit, and find love and peace within themselves. I hope that yoga can change my community and the world as a whole for the better.