WINFRED KARIUKI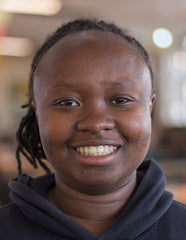 I have been teaching yoga since 2013. I have gained my certifications for AYP 200hr, Baptiste Level II, Art of Assisting, and Next Generation Yoga for kids.
I was introduced to yoga by another AYP teacher, Irene Mueni. We used to practice back at home where she was teaching free outreach community classes and I became interested to teach and empower the youth in our community as well. In the year 2013, I applied to be a teacher at the Africa Yoga Project and I trained for one year as an assistant and then officially became an instructor through AYP.
When I'm teaching, I really enjoy assisting my students within their poses to help deepen their practice and experience. In class, I infuse the power of drishti (focus) and ujjayi (breath) to bring release them from stress and come back into their present moment. Primarily, I teach Kid's Yoga and Power Yoga. Currently I teach three outreach classes per week and have four private classes a week.