Richard Kitoshi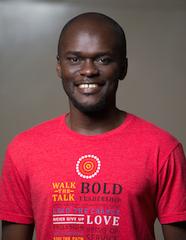 Mentorship Coordinator
For Richard it all began when he attended his first yoga teacher training in 2012 in Nairobi, Kenya. Under the tutelage of Sharon Moon of the Jois Foundation, he was trained in the style of Ashtanga yoga. 
At the start of his career within teaching yoga, he began by teaching at a rehabilitation centre for girls in Kirigiti, Kiambu, and Kenya. He also taught mothers living within the slum area of Huruma in Nairobi.
Nowadays, he can be found teaching at the Shine Center on weekday evenings or occasionally on Sunday afternoons. He has also extended his love for yoga by teaching privately in upcoming yoga studios, gyms, and residential areas. He looks forward to one-day running his own yoga studio.